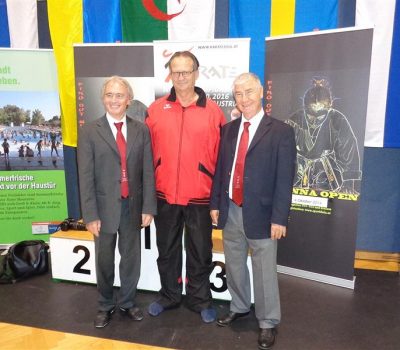 14th International Vienna Open on 20th September 2014
This international competition is nowadays really a great success.
422 Karateka from 18 countries participated in and fought in 56 categories for the winner. Even participants from Argentina and South Africa took part in.
The organization by the president of the Vienna Karate Federation, Alfred Anderl and his vice president Dr. Friedrich Gsodam and a team of numerous coworkers have delivered an impressive event. The sports hall, 5 tatami, the referees and judges, food, coffee and all the necessary things around the event worked very well and no heavy accidents happened.
The area for celebrating the winners was very impressive prepared by the flags of all participating countries and information about Austria and its surrounding area.
All in all it was one of the biggest Karate events in Austria.
The photographs give you an impression of the event.