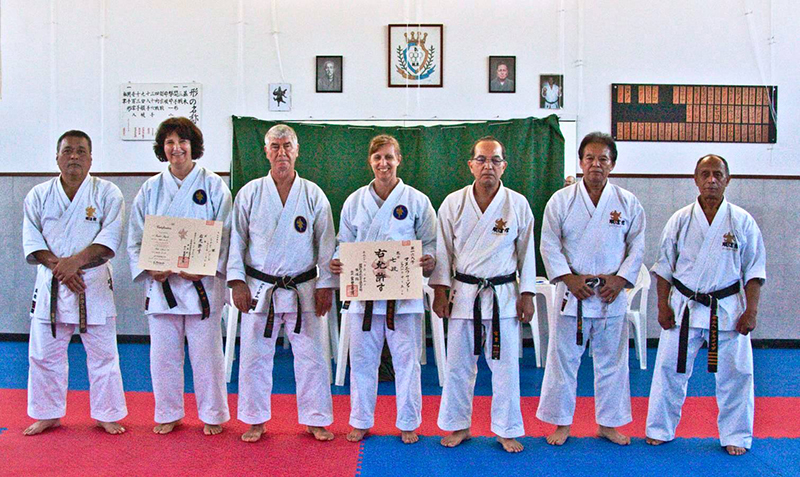 International Jundokan Gashuku in Carcavelos, Portugal, in June 2016
The Gashuku was organized by Nuno Cardeira, Jundokan Portugal, and his team in very impressive manner.
Carcavelos is a small town about 20 km far from Lissabon and can be reached by train or car easily.
The sports hall was big enough, so that the training could be held in different groups depending on the rank. Altogether about 120 students worked there hard for several days and we often had the opportunity to eat and sit together for discussions.
14 participants from Austria representing the 4 Jundokan Karate clubs Jundokan Karate-Do Austria Hollabrunn, Jundokan Budo SV-Vienna, Jundokan Karate Wien and Jundokan Karate Schwechat-Rannersdorf attended the seminar.
The Okinawan trainers under the leadership of Kancho Yoshihiro Miyazato  were Tsuneo Kinjo Sensei and Tetsu Gima Sensei, both 9th Dan and a younger colleague from the Jundokan Dojo in Naha, Takayuki Miyakozawa, 5th Dan.
The main content of the training was Kata and Bunkai, which is always of great interest. Two of our students passed the grading for 4th Dan and 7th Dan. They have been prepared for that for more than one year.
The next Gashuku in 2017 should  take place in Poland; this was decided by the Okinawan trainers and the Shibushos  within a shibu meeting.
This was our first trip to Portugal and all in all it was very interesting. The country is impressive and the people are friendly and helpful.
Beside the training we used the time to visit Lissabon to see some places and things of interest like the famous Vasco Da Gama bridge which is 17,5 km long, the "Mosteiro dos Jerónimos", the "Torre de Belem" e.g.. We also visited the most western point of the European continent, called "Cabo da Rocca", 140 m elevation and with an impressive view over the Atlantic Ocean. It was also worth to visit the small town Estoril (former place of the Formula 1) and Cascais.
All in all it was a great success and we are looking forward with interest
to the next Gashuku in Poland.
The photographs give you an impression of the performances.