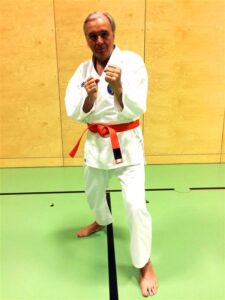 Robert Werner – Star Musician and Karateka
Robert Werner, an artist of the extra class, singer, pianist and composer, music enthusiast, passionate entertainer.
A high-prized "Viennese child" who received his first piano lessons at the age of four from his own father.
A full-blooded musician who can stretch a seamless musical arc from jazz to classical music and pop and back to classic.
He started as an ensemble member and soloist at the Vienna Raimundtheater with a focus on operetta and musical.
As the next step he followed the call to the Wiener Staatsoper, where he was a member for 25 years.
At this time he began to compose. Basing on his education at the Viennese Conservatory in the subject piano and in Bratislava in the subject opera singing he was able to inspire his audience with his compositions.
Robert Werner composed for Siegfried and Roy, Jose Carreras, Ernst Fuchs and also musical- and filmmusic.
His concert tours took him to Germany, Switzerland, Italy, Croatia, China, Montenegro and Greece.
In his private life Robert Werner is a passionate Karateka. Whenever possible, he takes part in the training with his Karate friends.
He loves the balance between the artistic touch of the piano keys and the technique of the martial art Karate, which is also considered a way of self-discovery.
Both "Kara – the empty" as an ethical claim, according to which the Karateka is to free his inmost from negative thoughts and feelings, as well as the physical stress of Karate, influence positively his life for the music. The musical journey of Robert Werner found an enrichment by walking on the "Do", the way of the Karate.