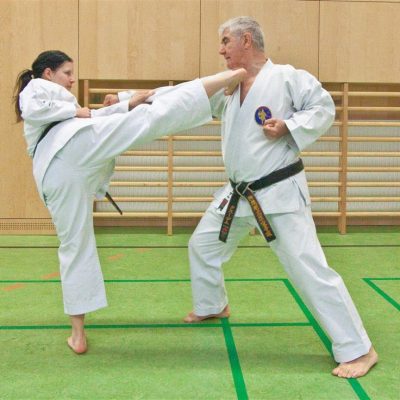 Sophie Raab truly versatile and a very good comrade
Sophie Raab, longtime member of HSV Vienna and certified karate instructor, comes from northern Lower Austria. She is successful not only professionally in Vienna and in traditional Jundokan Goju Ryu-Karate; she is also a successful musician in the Stadtblaskapelle Langenzersdorf (Brass-band).
She plays the transverse flute there and regularly participates in gigs and presentations.
So she, dressed in the uniform of the brass-band, played on April 30th 2018 at Maypole setting up in Langenzersdorf both during the marching in of the brass-band and the subsequent promenade concert.
The Maypole setting up on the evening before 1st May is a tradition in Austria, which is used to celebrate in many villages and towns.
At this event, which is an important event for communication in the rural commune also, music is played, songs are sung and the people are dancing.
Several important parts of the marching in and the formation during the concert are shown in the attached photos.