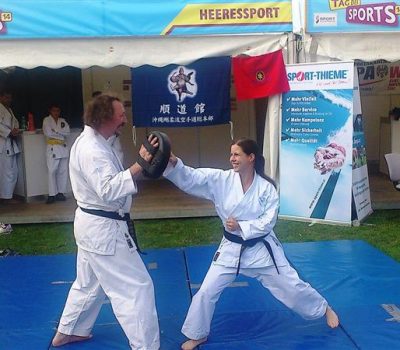 Tag des Sports in Wien – Day of Sport in Vienna
The "Day of Sport" in Vienna is a big event presenting different types of sport. It is celebrated every year in the 3rd week of September at the Heldenplatz – Place of the Heroes – in the City of Vienna. About 500.000 visitors come to this famous place to see the presentations and shows and to get information by the represented sports clubs and organizations about training, membership etc.
Starting at 10 am up to 5 pm all kinds of sport were presented by the different clubs and organizations e.g. Karate, Judo, Aikido, diving, climbing, dancing etc. etc..
Our Jundokan Karateclub HSV-Vienna took part in the presentations with 13 Karateka, juniors and adults, and we had much fun and success.
The photographs give you an impression of the event.