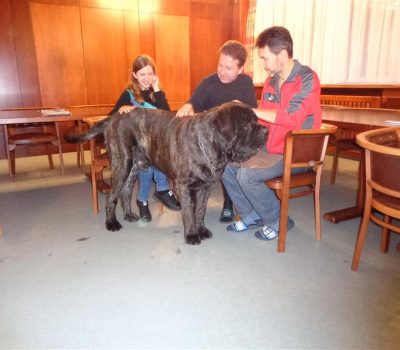 Weekend Seminar at the Secondary Technical and Vocational College
Its simply a tradition: From the 10th to the 12th of October 2014 the Jundokan Karate-Do weekend seminar was held again by Dr. Friedrich Gsodam, 9th Dan, Hanshi, at the Secondary Technical and Vocational College Hollabrunn, Lower Austria.
31 participants from 6 Karate Clubs from Lower Austria and Vienna attended the three-day seminar.
The declared main goals of the seminar have been on the one hand the best preparation of the two candidates for grading at the great international Jundokan Gashuku in Paris at the end of October, on the other hand the teaching of the Jundokan Bunkai to the number of students from other Goju Ryu Karate Clubs.
Therefore Kata and Bunkai combined with the appropriate Kihon elements were practised to increase the performance of all participants.
The two candidates were served by special lessons to become best prepared for the Dan-examination.
As a guest trainer for Jiyu Kumite, Helmut Lohner, the famous trainer for Kumite of the Karate Federation of Lower Austria, presented the latest Kumite rules of the WKF/AKF in his interesting practical lesson together with Werner Riedl, a well known Kumite champion of Lower Austria.
After the dinner on Saturday evening, a presentation of the famous cynologist Mr. Alexander Mertens was held at the Sport-and Seminarhotel Hollabrunn.
He gave a very informative presentation of the work of a cynologist and showed us a great and big dog, really a champion. A dog of the dog breeds Mastiff.
Its name: Multi Ch Gustav of the Cheese Hill
Owner: Kennel vom Hause Manhartsberg
86 cm high – mass: 105 kg
Ellbows free — hipps "B"
PRA — CMR1 — Cystinurie free by DNA testing, DOB 02.03.2010
International Champion, Hungarian Champion, Austrian Champion,  Austrian Youth Champion
5x BOB, 8x CACIB, 4x res. CACIB, 13xCAC, 6x Youthwinner, Youth Europe Winner 2011 VDH
Best Austrian Show Mastiff by points 2011 & 2013 etc. etc.
The participants have been lodged at the comfortable "Sport- and Seminarhotel" in Hollabrunn and the served food was as excellent as in the past.
The photographs give you an impression of the event.